From ThinkProgress
Wed Nov 14 2012, 20:00:22
Today during his White House press conference, President Obama scolded Sen. John McCain (R-AZ) and other Republicans for attacking America's U.N. Ambassador Susan Rice regarding intelligence on the attacks on the U.S. diplomatic mission in Benghazi. McCain said today that he and his Republican allies would do anything they can to prevent Rice from becoming [...]
[view whole blog post

]
People and Organizations:
Topical Focus » Obama Calls McCain's Attacks On Susan Rice 'Outrageous'
U.S. Africa Experts Debate Obama's Choice for State Department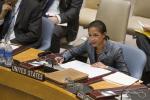 Against the backdrop of suggestions that President Barack Obama is considering nominating his United Nations ambassador, Susan E. Rice, to serve as his next secretary of state, American scholars and ...
blogAfrica is allAfrica.com's platform to help you keep an ear on the African blogosphere. We draw diverse voices from around the world who post regularly and insightfully about African issues. Bloggers, submit your blog's rss-feed!